Snap, crackle, pop. That was pretty much my idea of what chiropractic care was before I met Dr. Morgan Iles at Truly Chiropractic. A few friends and family members had seen chiropractors intermittently for aches and pains, and since I wasn't "hurt" I didn't think it was for me. It wasn't until I scrolled by a Truly Webinar on Facebook that I realized there is so much more to chiropractic care. It's not designed to just make you feelbetter, it helps you and your family heal better in every stage of life. I reached out to Truly to see if I could come by to check it out and see if there were any clients I could talk to about their experience.
The office is truly a happy place – it's beautiful, welcoming and serene. The amount of care and attention paid surpassed any practitioner (or spa, really) that I've ever been to. I met Annie, a Truly client in her second pregnancy. She was able to walk me through her process with Truly from start-to-current (because she's nowhere near finished!).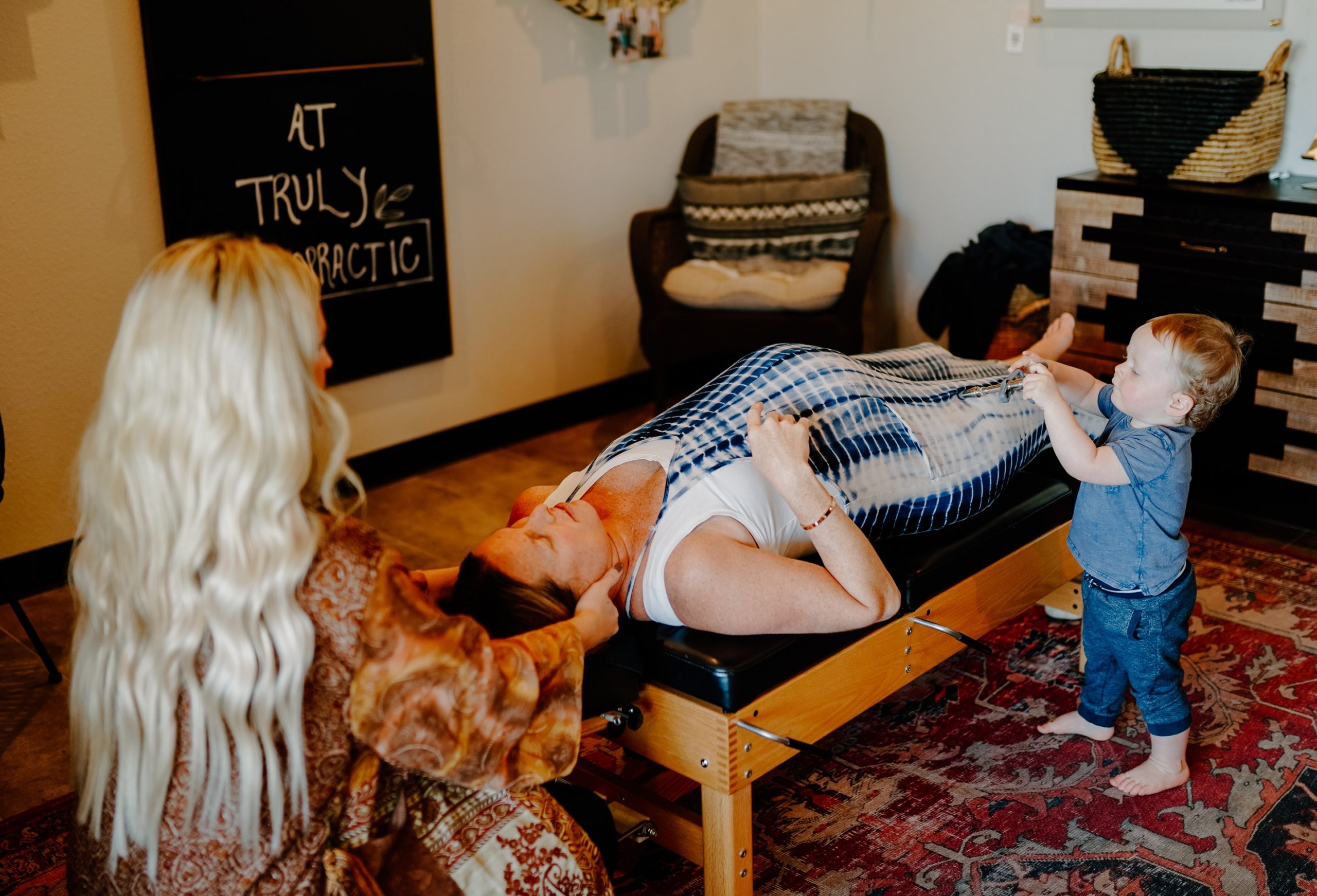 Leading up to her first appointment, Truly provided detailed questionnaires, covering medical history and wellness goals for her and her family. Instead of adjusting blind upon first meeting, Truly performed Insight Scans to help build a care plan for Annie and her daughter. These are non-invasive, zero-radiation tools to help Dr. Morgan and the team see what they're working with. Neuro-thermal technology, surface electromyography (sEMG) and heart rate variability help to assess the nervous system's functionality and track progress during your healing journey. She said her first scan looked like it was lit up like a Christmas tree! Oh boy. But Dr. Morgan explained how the tension and inflammation seen on the scans was most likely showing up physically (ugh, migraines!) and how she was going to help.
Annie's initial health goals when starting her chiropractic journey were overall wellness, better sleep for her toddler, and less headaches for her. She said she was so impressed, surprised and relieved that being adjusted was a PAIN-FREE process. She shared with me, "it was as if my daughter and I melted like butter in Dr. Morgan's hands, and we always looked forward to our next visit. We had increased energy, less middle-of-the-night wake ups, I was adapting to stress better, and my migraines seemed to go into hibernation. After 12 visits, we repeated our InSight scans and it was magic to see the concrete difference Truly Chiropractic had already made in our lives." Dr. Morgan sounds truly magical!
When Annie got the news of her second pregnancy, she was thrilled to have Dr. Morgan in her corner. A birth team doesn't just mean your OB, doula, midwife – it can include acupuncturists, pelvic floor therapist, lactation consultants, prenatal yoga instructors, chiropractors and more. Whether trying to conceive, achieve a VBAC or are pregnant with your first or fifth kiddo, prenatal care is the true passion of Truly Chiropractic and they're excited to be part of your team!
Dr. Morgan is certified in the Webster technique for optimal positioning of your baby and regular adjustments during pregnancy can help with nausea, sciatica pain, and lots of other typical pregnancy symptoms. Annie explained that her second pregnancy was a lot smoother (coincidence? I don't think so!) and if she ever needed to just talk through my anxiety – Dr. Morgan was there to listen and help me through it all. Calm mama = calm baby!
After a smooth delivery, Truly Chiropractic was at the top of her thank you speech – she was shouting their praises! Regular adjustments during pregnancy didn't just keep her nervous system calm and thriving, her body was prepared for postpartum. Annie's journey with Dr. Morgan has continued with postpartum care, and her little guy got his first adjustment at just 3 weeks old. Don't worry, there was definitely no snap, crackle, pop!
"We are so lucky to have Dr. Morgan and the Truly Chiropractic team as a part of our family's wellness routine and life. Not only do they focus on healing your nervous system, they want you to thrive in the community. My kiddos ASK to go to "Morgan's house" and have made besties in the play area. They host prenatal and postpartum support groups and yoga classes, and the office just feels like an extension of HOME," said Annie.
Annie added, "Truly has helped us heal to the fullest degree. Migraines, sciatica pain, more sleep and less tantrums, ear infections, constipation, colic, anxiety – Dr. Morgan got us through it all, in every season of our life. The team also gives the best hugs. My family loves Truly Chiropractic and we know yours will too!"