Meet Chef Krystyna Cibelli-Pettus, an NYC transplant who now calls Austin home. Her small business, By Chef Cibelli, is delivering delicious meals to your porch with free delivery popups and making life easier one pizza kit at a time (scroll down for promo code!). Gotta love a small business that takes care of dinner for you – let's find out more about this uber talented chef!
Can you tell us a little bit about yourself?
My name is Krystyna Cibelli-Pettus, my wife's name is Ashleigh and we have a dog named Regina Phalange. We've been married for six years and are working on building our family through foster and adoption. We moved to Dallas two weeks to the day before the big 2021 Freeze, which completely destroyed our apartment and gave us the opportunity to join the amazing Austin community that we love so much. I am born and raised in New York, this is my first out-of-state move and I'm loving the southern life! When I'm not playing with food, you can find me painting, building things, or outside somewhere in the forest with a camera and my arborist wife. We love a good adventure, road tripping in the states, and traveling overseas.
Okay, so tell us more about your small business, By Chef Cibelli:
By Chef Cibelli was born out of my collective professional knowledge over the last 15+ years through being a Private Chef and Culinary Educator, which I have tailored into a diverse culinary experience. This model gives me the opportunity to bring various cuisines and food experiences to the Austin community. Available at all times are at-home pizza kits and meal delivery drop-offs; we offer individual portions, family-sized portions, and weekend brunches. These meals are prepped and cooked in our commissary kitchen and delivered right to your doorstep with no extra fees. Every other Friday of the month I do a pizza or chicken sandwich pop-up for South Austin. The pop-ups are such a blast for me and will soon be transitioning from delivery only to a more centralized location and full-on event.
I also teach private cooking lessons and do private dinners/events by request. A large part of my cooking style and business model is based on something I like to call "Sinatra Style," meaning I do it "My Way."
Where do you see By Chef Cibelli in the next five years?
Over the course of the next five years, I really hope to expand my reach and be an intricate part of the Austin community, continuing to bring unique culinary experiences to the city while providing job opportunities and giving back to the community. I absolutely love passing on my multi-faceted knowledge to others.
In the upcoming years I hope to transition into a non-profit with a career development program, where we foster an awesome learning and work environment while still providing stellar culinary creations.
What do you love about having a small business in Austin?
I have to say the thing I absolutely most love about having a small business in Austin, is the people I've met along the way. WOW, that southern lifestyle is a whole new ballgame for me being a native New Yorker, but boy does it agree with me! I have met so many new folks from all different walks of life and absolutely every single encounter I've had has been phenomenal. I don't know about this sun and humidity y'all, but what a great city filled with the most amazing people I've had the pleasure of meeting and cooking for.
Have any time saving tips/resources as a small business owner?
Owning and running a small business is like nothing else in the world, Murphy's Law not only applies, but frequently circles back around to remind you to stay on your toes. My two little cents of advice is to find what works for you, because you are the only you there is in this world. There are an infinite number of ways to go about something, if you place yourself in a box you cut yourself off from all the other possibilities. That goes back to my "Sinatra Style," what works for you is always going to be what's best. No two people, businesses, or circumstances are ever going to be the same. What works for one may not work for another just because it's the most used method. Sometimes it takes a while to figure it out and sometimes it means borrowing different methods or practices and tailoring them into your own. The world is an everchanging place, stay on your toes, ask questions, and always be true to yourself.
Okay, favorite spots in Austin? I know this may be tough for a chef!
I still have so many more local eateries to try, but so far my top two are Hestia and Uchi/Uchiko. WOW! WOW! Beyond blown away. I rarely return to a restaurant, yet these two I have frequented multiple times.
And for favorite coffee spot, coffee has always been a huge part of my life since my very first sip out of a little half & half creamer container at my absolute favorite diner in Queens, NY back in the 80's. Coffee is also how my wife and I met almost a decade ago. Every weekend we try a new coffee place or two. It's been an amazing experience so far, yet have so much further to go. So far in our coffee adventures, our top places have been Revival Coffee, Try Hard Coffee, and Cannon Coffee. I like my coffee to taste like coffee, and I've made it my personal goal to try all the coffee places in the ATX areas and never have St*rbucks again.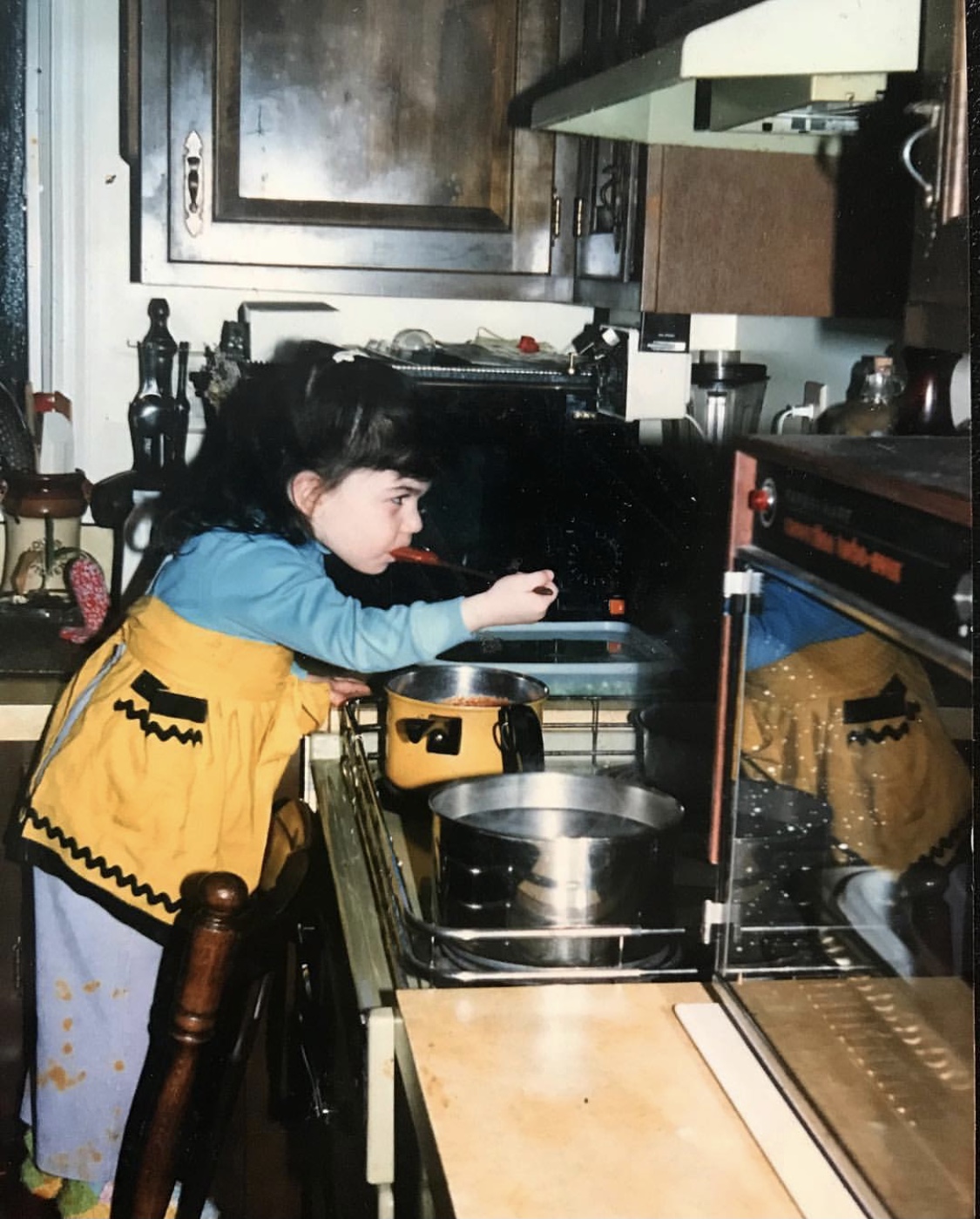 Thank you so much for chatting with us. Any promotions, specials or upcoming events you want to share?
YES! I love promotions! We are currently running a special on our Pizza Kits for all of July and August for 20% off your first kit with coupon code SOUTHATXMOMS. My Instagram stories and mailing list are the two best ways to learn about our frequent promotions and giveaways. We have a new and improved kid-friendly menu (with hidden veggie options) coming out soon that we'll be running a special on.
Our delivery-only Red Queen Pizza pop-up and Fricken Sandwich pop-up will be running on a regular schedule starting in August on the 2nd and 4th Friday of the month going forward, until we find a more permanent home. Delivery is ALWAYS free in the surrounding Austin areas, regardless of your order size or amount. One of my biggest pet peeves in the culinary world is third-party ordering and delivery systems. More often than not they take advantage financially of both the customer and the business, which just does not sit well with me. All orders, communication, and deliveries are done directly through our very small group of employees with no extra or hidden fees. This allows us to get great food to you and/or your family without having to blow your budget or cut into our profits. Higher profits mean we are able to locally source the products that we are using in our kitchen and help to support the local economy, as opposed to using big box stores with lower quality ingredients.
Be sure to check out how Chef Cibelli can make your life easier and more delicious! 
@chefcibelli
chefcibelli.com
If/when you order a pizza kit from Chef Cibelli, tag us in your photos! We'd love to see them. Pizza kits are $15 and come with dough, sauce, shredded mozzarella and NYC seasoning. Chef Cibelli includes written directions and a QR code option for directions. What a fun activity to do with the kids!