Recently, The Local Moms Network was planning to hit the road and travel to Dallas, Texas, to scope out some of the latest and greatest new products for families and kids at the Juvenile Products Manufacturers Association (JPMA) event in Dallas. Like many scheduled events, it moved quickly to a digital format.  "We had to pivot VERY quickly to an all-virtual format, which was brand new to JPMA. The scope of The JPMA Show is enormous — hundreds of brands, media, influencers, retailers and more were all ready to travel in to participate in this showcase of baby and children's products innovation," says Kelly Mariotti, Executive Director, Juvenile Products Manufacturers Association. Luckily, the event was able to go forward seamlessly, and we have a summary of some of our favorite products ready for you (see below). "While we were disappointed to not get to see everyone in person, more than 2000 visitors checked out over 100 top brands in our virtual show, which was amazing!" notes Mariotti.
This is a summary of some of the best of the best baby, kid and family gear, gadgets and more to watch for this year!
Best in Show
Fisher Price ClickTM Hands-Free Baby Gate
On the market: March 2021
ClickTM is a completely hands-free, electronic baby gate that has an auto-lock feature. Think: a childproof system that is easy on the eyes and easy to install.
https://www.fisher-price.com/en-us
Best Product Under $25

bökee
On the market: September 2019

With bökee you can prepare bottles, sippy cups and more with a single hand. You can even use it to transfer breast milk from storage to bottle safely and easily.
https://www.thebokee.com/
Child Restraint Systems
CYBEX Sirona S
On the market: Spring 2020

CYBEX's new Sirona S convertible car seat has an incredible 360° rotatable seat, making it a cinch to alternate between rear-facing and forward-facing. This is one of the safest, and most attractive car seats on the market.
https://cybex-online.com/en-us
Green/Environmentally Friendly

Green Sprouts® Sprout Ware® Straw Cup made from Plants
On the market: April 2020

Everyone is trying to do their best by the environment and keep their kids safe, and the Sprout Ware® plant-plastic composite is a completely plant-based material that's free of harmful chemicals. This soft straw cup will became an instant favorite.
https://greensproutsbaby.com/
Nursery

Fisher-Price Lumalou Bedtime Routine System
On the market: November 2020

This new age bedtime routine tool lets kids unlock music and light rewards when they follow their bedtime schedule. The Smart Connect app allows you to customize it for your own family.
https://www.fisher-price.com/en-us
Feeding/Bathing/Changing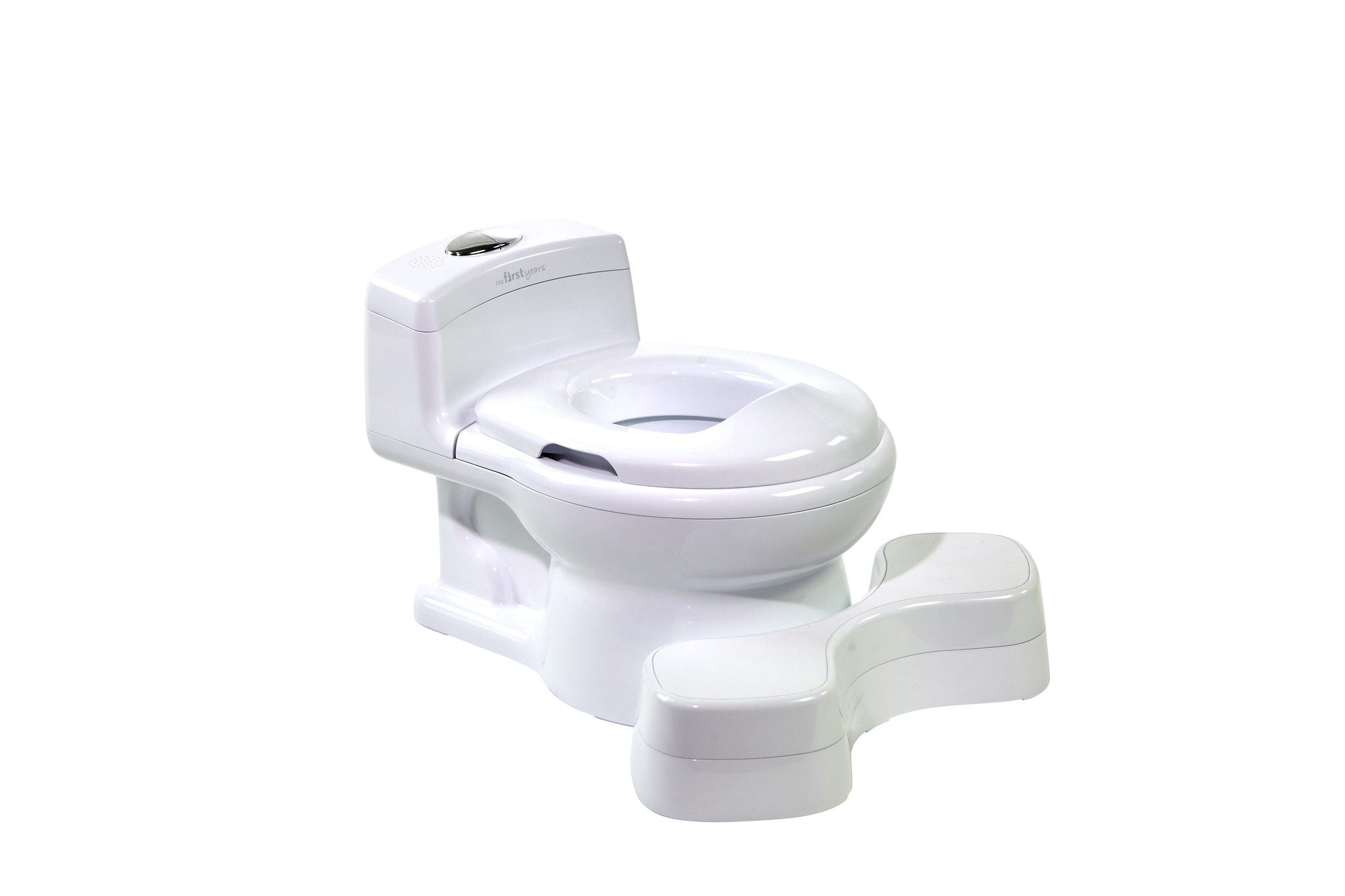 The First Years Super Pooper Plus Potty
On the market: March 2020

Anyone who has been through potty training knows that positioning a kid in the right position is half the battle, and the First Years Super Pooper Plus Potty has a foot lift just for this purpose. It also has the realistic "flush" that kids love.
https://us.tomy.com/
Infant/Parent Care

Safety 1st Stay Clean Humidifier
On the market: September 2020

Humidifiers can be germ-hosts, but this Safety 1st Stay Clean Humidifier kills bacteria and prevents mold buildup through LED technology.
https://www.safety1st.com/
On The Go

MONIT America Inc. Bebefit Light Folding Hip-Seat Carrier
On the market: January 2020

This compact hip-seat waistband supports up to 110 lbs in tests (so even the biggest babies will be comfortable).
https://bebefit.io/collections
Play/Entertainment

Lamaze 3-in-1 Airtivity Center
On the market: Summer 2020

This unique learning center centers around "air play", and can be used from the baby to toddler years.
https://us.tomy.com
SafetyYun Yun AI Baby Monitor Corporation Cubo AI Baby Monitor On the market: June 2019

This "smart" baby monitor will alert you if your baby's face is covered; it also features cry-detection, rollover alert, 18-hour playbook and automatic photo capture.
https://us.getcubo.com/products/cubo
Strollers

Dream On Me INC Coast Rider Stroller with Canopy
On the market: January 2020

This versatile entry is a rider stroller that folds, and can be plugged in with any stroller. Older siblings will love coming along for the ride.
https://dreamonme.com/
Technology

TotTech ForgetMeNot
On the market: April 1, 2020

Every parent worries about forgetting their child in the car, and this gadget alerts you through an app on your phone if you leave the car while they're still in it.
https://tottech.com/
Parent's Pick

DetraPel® Baby Gear & Fabric Protector
On the market: January 2020

This non-toxic fabric protector will help you keep car seats, strollers and more stain free without exposing your child to extra chemicals.
https://www.detrapel.com/
Up & Comer

Strollerwagons Pronto One
On the market: October 2019

Use this unique addition to your gear collection functions as a bassinet, a double stroller or even a cart for neighborhood meandering.
https://prontostroller.com/
Tried and True Awards (5 Winners)
Fisher-Price Deluxe Kick 'n Play Piano Gym
This popular play gym is a registry-must, and now comes with Smart Stages technology to change the content as your child grows.
Fisher-Price Jumperoo
Another popular registry item, more than 2.2 million Jumperoos have been sold since its debut 20 years ago.
MAM 6+ Night Pacifier
These soft pacis are perfect for night, because they actually glow in the dark, making them easy to find in a dark room.
Mommy's Helper Juice Box Buddies
Prevent squirts and spills with this cute juice box holder.
BubbleBum Travel Booster Seat
Traveling with kids will be that much easier with this inflatable car booster seat; deflated, it fits into a purse.
2020 judges for the Innovation Awards included:
April Hussar, Managing Editor Romper
Jenn Falik, Contributor, The Today Show
Jessica Hartshorn, Editor, Parents Magazine
Lexie Sachs, Textiles Director, Good Housekeeping Institute
Rick Rosati, VP, Bureau Veritas Consumer Products Services Division Sara Stefanik, Community Director, What to Expect
Torine Creppy, President, SafeKids Worldwide
ABOUT THE INNOVATION AWARDS
The Innovation Awards competition began in 1989 as the Most Innovative Product Contest and has become recognized as a highly acclaimed competition. In 2003 JPMA renamed it as the Innovation Awards to more accurately represent the focus on innovation. They are sponsored by What to Expect.
ABOUT JPMA The Juvenile Products Manufacturers Association (JPMA) is the voice of the industry on quality and safety for baby and children's products in North America. The Association advocates for safety through product certification programs and legislative and regulatory involvement. It also supports a broad and diverse membership through member-only programming and industry promotion, and acts as a comprehensive source for baby product information and education. JPMA members represent 95 percent of the prenatal to preschool products sold in North America. JPMA members represent 95 percent of the prenatal to preschool products sold in North America. To find out more about JPMA, our certification program and products certified, and for a complete listing of JPMA Members, please visit https://www.jpma.org. Follow JPMA on Twitter @JPMA and connect with us on Facebook to learn about additional safety tips and JPMA initiatives.