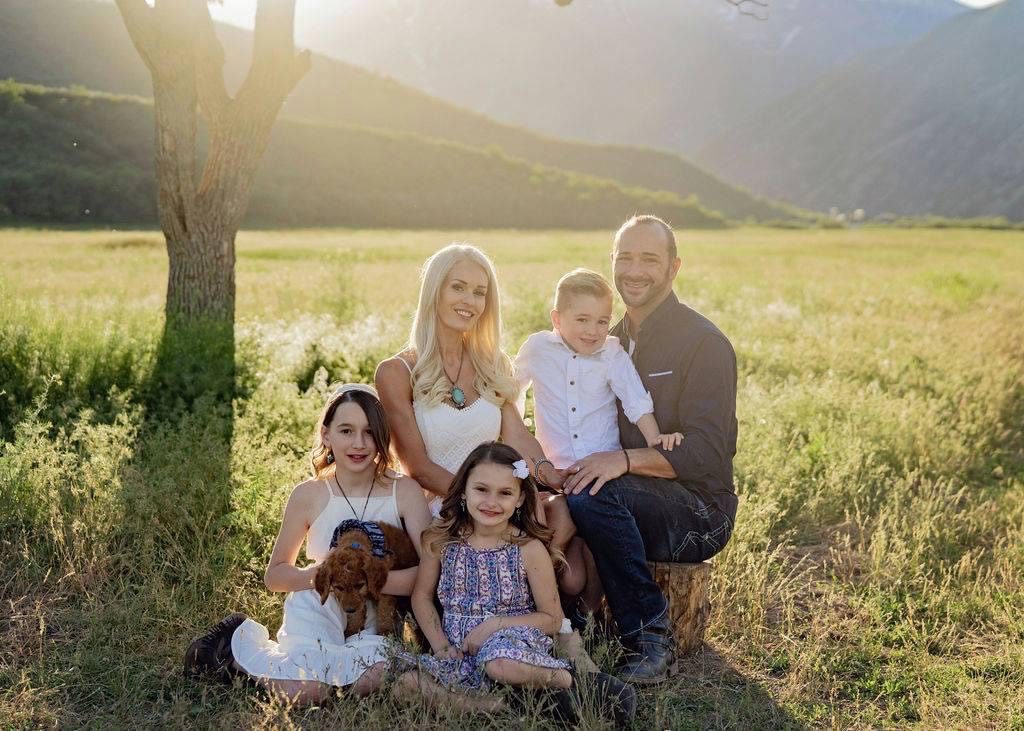 We have recently partnered with Legends Boxing and it's been awesome to get to know the boxing gym team. What an incredible community they've created! Today on the blog, we're getting to know Lynette Fields. Lynette and her husband Jared own two Legends Boxing locations – one in South Austin and one in Cedar Park.
I'm honored to have this opportunity to share my "WHY"! I have always wanted to be someone who inspired others, to empower them to believe that age is just a number, and success is a mindset and attitude. I am where I am today because I learned how to work hard from my Mom and Dad (Idaho farmers' daughter- HA!), work smart from my husband, and make choices of sacrifice and of the heart from my three amazing kiddos. Annnnnd maybe a pinch of free-spirit, independence and drive from my natural self. 😉
I grew up with a family of 8 kids, including myself. Jared and I have been married for 18 years, and looking forward to many more! My first job after we were married was working as an intervener (tutor/assistant) for deafblind students. It has been a key factor in my life, because of the training for it. The students were my first "babies".
The patience and empathy they taught me is priceless. Becoming a mom was a lifelong dream, and after a couple of rough miscarriages, I ended up with three unique kiddos! I love being a mom! Even through the WTF moments. LOL. They keep me grounded in so many ways, and have taught me so much about selflessness, even more patience, and what's most important in life. I also learned a lot of dedication and hard work from competing in three fitness competitions. For all you fellow foodies trying to abstain from treats, drinking, and comfort food, I salute you!
Jared and I grew up as the seemingly dorks of the town. We were "band nerds", while also loving sports! We didn't have any set group of friends really and bounced around from group to group. We just loved being social and bringing people together! My personal hope for a Utopian society (Utopia is one of my favorite books!) pushes me to create and build relationships, and is my "WHY" behind a lot of my choices.
What do you love about Austin?
Jared and I fell in love with Austin after visiting from Utah for a Spartan Race in 2015, and made many friends. "Keep Austin Weird" lit a fire, and hit home for me – I finally found my people. Haha. I felt like I could finally be ME here. I had struggled with really bad depression living in Utah. It is really hard to make friends there.
Boxing really helped with that! Being able to see the same friends come in and punch the bags with me, was a game changer! After developing a passion for boxing fitness in 2018, we made a game plan, and had planned to move to Austin the spring of 2020 after opening up our first LEGENDS Boxing Gym in January of 2020…you can see where I'm going with this. Haha.
We opened Legends Boxing South Austin in January of 2020, 3 months before COVID hit and shut us down for almost 12 weeks, which also put our move to Austin on hold. We still owed rent on the gym, the mortgage payment on our new home in Austin, and used almost all of our life savings that year to keep our gym open and to stay afloat where we lived as well.
Because we truly believed in the tribe and product we were trying to build, my husband and I worked our tails off to forge ahead, and build up our members again, once we re-opened. It was slow going as everyone's lives were flipped upside down after COVID. But after a strong start to the year in 2021, we opened a second location in Cedar Park in January of 2022!
I'm so happy, grateful and proud of Jared, our staff and members who have made the gyms what they are today! And for our kids for putting up with us being very stressed sometimes. Haha.
Tell us a bit more about Legends?
LEGENDS isn't the typical old school (some would call intimidating) boxing gym, even though that has its place. We built our gyms to be accepting of all people who want to learn a new skill on the bag and mitts, and/or advance their skill in the ring, and accomplish their fitness goals! It really is a special tribe, and like a second family as our members and team will attest to! Also, talk about women empowerment!
We have many women/moms that come to our gym, and some even get in the ring with the guys! It's a great place to let out your steam on the bags, and have adult interaction with awesome people! Once a month, we offer "Intro to Boxing" classes for those who might be too intimidated to join the regular classes. 🙂 A FREE workout is always on the table for those who want to come try it out!
Our goal is to put in 2-3 more LEGENDS gyms throughout Austin!
The more I thought about it, the more I think there are two meanings of the Gift of Time for me. First- having 3 kids, a busy hubby with 2 other businesses, 5 pets, the LEGENDS business, and a home to take care of- by preparing my days with a PLAN, I liberate myself by doing that with the gift of time to get everything done. Second – there are days I purposely don't have a plan AS a gift of time for myself, which includes whatever I want to do for the day. That usually involves reading (I love ALL genres, especially historical non-fiction and self-help – Brene Brown is my heroine!), getting nails done, or a massage, paddleboarding, fishing, hiking, and sports/races/gym time – especially Legends Boxing and seeing our team/tribe!
What is something interesting that not many people know about you?
Well, I guess not many people know I was the "Sling Shot Girl" that went viral on Youtube back in 2007. Many tv stations played it, and I was interviewed for it on Country Fried Videos- don't look it up; my specialty is definitely not being in front of a camera. LOL. I am also a Reiki/Energy worker. Hi, fellow healers! And if I could, I would go back to school for several degrees! Because as my Grandma once said, "You're never too old to learn something new, and we are students all of our lives."
Favorite Austin Places?
Coffee/brunch place: Jo's Coffee
Favorite restaurant: Aba
Favorite place to grab drinks: Edge Rooftop
Thanks for chatting with us, Lynette!
South Austin: legendsboxing.com
@legendsboxing_southaustin
Cedar Park: legendsboxing.com
@legendsboxing_cedarkpark