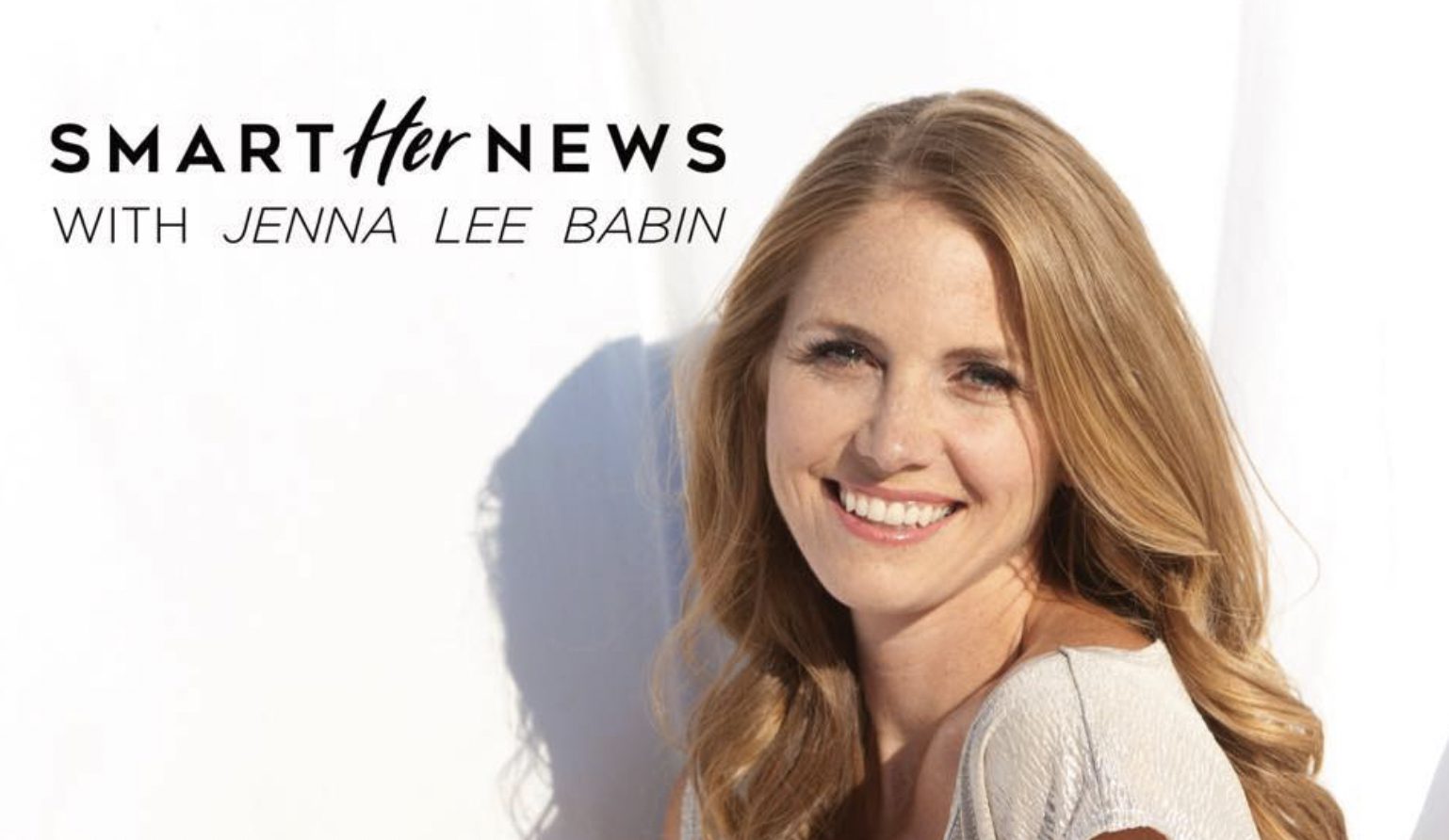 Total fan girl moment when I was able to snag an interview with Jenna of SmartHER News. I've been a follower of hers for a while because she makes the news easy to digest and understand. I obviously love that she is a mom too and is just like us. Hope you enjoy learning more about her!
Jenna! Thanks so much for joining us. We know you're extremely busy, so we are very grateful!

My name is Jenna Lee. My husband, Leif, and I moved to the Austin area in 2017 after I made a sudden career shift, walking away from what I thought was my dream job and unexpectedly becoming an entrepreneur!
We always wanted to stay connected to the Texas Hill Country because we got married at Old Glory Ranch in Wimberley. While still living in New York City, we stumbled upon a sweet home in Driftwood. At the time, in early 2016, we likely were watching a little too much HGTV and thought "This will be a great property to fix up and rent to a family relocating to Austin!" And then, in 2017, we became THAT family!
Driftwood seemed a long way from home – I grew up in the heart of San Francisco and moved to New York City for what I thought was one year at Columbia's Graduate School of Journalism; I ended up earning my degree and living and working in New York for 13 years. My husband grew up in east Texas, in a small town called Woodville before attending the U.S. Naval Academy, and serving in both the Navy's surface fleet, sailing around the world, and as a Navy SEAL, deploying multiple times to the Middle East. We met in Manhattan during a military fundraising event, while my husband was still active duty, and I was a news anchor on a new television channel (at the time) called the Fox Business Network. I later became an anchor on the Fox News Channel, co-hosting a two-hour news show 5 days a week. I loved my job and learned so much, but I also noticed a notable shift in the news industry, across networks, to more debate and commentary, and less reporting. I knew I had to make a change. We moved to Texas with our two children, a two-year-old boy and a 1 year-old girl. We have since added another little boy, born just before the pandemic, and I've built SmartHER News for the last 4+ Years.

Can you tell us a bit more about SmartHER News?
I created SmartHER News as a solution to a problem. For so many, the news industry is too partisan and cluttered. Throughout my career, I've heard the complaints from friends, family and strangers, and felt the frustration myself as a consumer that there is no where to go to simply find out what is going on and why it matters. I love the news but it's a chore to consume – I want you to love the news AND for it to be easy for you to access! My experience puts me in a unique position to create an alternative: quick, concise, nonpartisan news, easy to access for everyone, especially the busy American mother.
The idea for SmartHER News first surfaced during a doodling, brainstorming session. I asked myself this question: What do people really want from the news? And the word that came to me is we all want to be smarter. And that's how SmartHER News came about – a site dedicated to returning news to a service – respecting the audience's time and their ability to make up their own minds, on any given issue. We We just supply a few key facts and a pathway to more information as needed. Our priority is concise reporting and also helping curate/organize the hectic news space in consumable bites of information.
I launched SmartHER News in 2018. It has since grown to a thriving community on social media, including people from all different backgrounds and political persuasions, who have one thing in common – valuing nonpartisan information. Our guiding mantra at SmartHER News is "curiosity over commentary." It reminds us to stay vigilant asking questions and seeking new information – always focusing on learning something new over debate.
Our mission is to Give Moms the Gift of Time — What are your best time-saving tips/resources as a mom?
In journalism, we talk about "double-sourcing" – which means, in order to confirm a fact, we really want to hear it/read it from two different reliable sources, if not three! I embrace this as a journalist but I have found I do a poor job in my private life. "Sourcing-up" matters. One reliable babysitter is awesome – but why not work towards having two? (or five!). One responsive plumber is great – but why not get a second recommendation from a friend? Can you ever have too many plumbers or babysitters?  I find when mom's double-up and share "sources," we can also solve a lot of problems together, so that next babysitter call-out, or broken pipe, isn't the disaster it could be.
Double-sourcing goes hand-and-hand with outsourcing – outsourcing tasks that someone else can do, and likely do better! This is a skill I'm trying to finesse, but I have found ordering the H-E-B app and delivery fee is worth every extra penny. It helps me stay focused on what I really need. Plus, it saves me from wandering all over the store for something I forgot, and the time loading and unloading, groceries.
What are some of your biggest challenges you are currently facing within your business?
One of my biggest challenges is … myself! Getting out of my own way and hiring the right people. I love the news. I love journalism. I know nothing about accounting! Or marketing! Or retail! All of these departments are key parts of an expanding business. My team has grown large enough that many assignments and projects can easily get bottlenecked with me unintentionally. My next goal is to figure out how to fix that and hiring the right support team. I envisioned an environment where people worked 2-3 days a week, so they stay fresh and engaged with the news, and fresh and engaged with their families. I still have this dream! If you're interested in helping us – email: [email protected] !
We have to know – do you have a favorite restaurant in Austin?
ATX Cocina always and forever. I love the food. I love the atmosphere. It's great for a date night or a dinner with girlfriends or a business meeting! And I've used it for all three and more – including our dinner for the launch of SmartHER New – and it never disappoints. Plus…I love their simple house margaritas!
It's been so great chatting with you. Are there any promotions or special events you'd like to share?
I love interacting with our audience through Instagram but we recently wanted to provide another way to connect – especially for those who want to take a break from social media! We just launched a new insider community called SCOOP! Insiders receive a first look at promotions, and products but also receive what we call, an invite inside our newsroom – a special report delivered to their inbox every Monday that not only includes what to watch for in the week ahead (and why it matters) but a rare look at how the news is "cooked"! Click here to learn more.
We'd love you to join SCOOP! But we also wanted to create something special for the mamas in our community who inspire us!
Use the coupon "AustinMoms" to get a special 15% coupon off our entire shop!
We just launched a new hoodie that's two looks in one, a perfect transition piece for the fall in Texas!