Have you ever looked at something that bothered you and knew there had to be a solution? That's exactly what Glenna of Cool Little Ones did. Today on the blog, we're talking all about starting a business, setting small goals and her favorite spots in Austin. 
Glenna! Thanks so much for chatting with me. Can you tell us a bit about yourself:
Hi! My name is Glenna and I grew up in Dripping Springs. My husband and I ultimately decided to move back to be close to family once we started having kids. In many ways, Dripping Springs has changed so much from when I grew up here, but it still has some of its quaint charm, similar to most areas around Austin. I grew up coming into Austin almost daily and frequented Lady Bird Lake, Barton Springs, the Frank Erwin Center, etc. I have also always been into sports throughout High School and College which ultimately helped me when creating Cool Little Ones!
How did Cool Little Ones come to life?
Cool Little Ones started out of a personal need I saw for my then 3 month old and 2 year old. In March of 2020 when everything shut down, we were always outside in our backyard playing and going on walks. I started noticing how sweaty my baby and toddler were when we were outside and thought, "If I am wearing cute, moisture wicking clothes, why aren't my kids?" I borrowed an old Brother sewing machine from my stepmom and started designing and cutting patterns to make clothes for my kids out of my workout clothes. I made headbands, onesies and shirts and soon had friends interested in my clothes!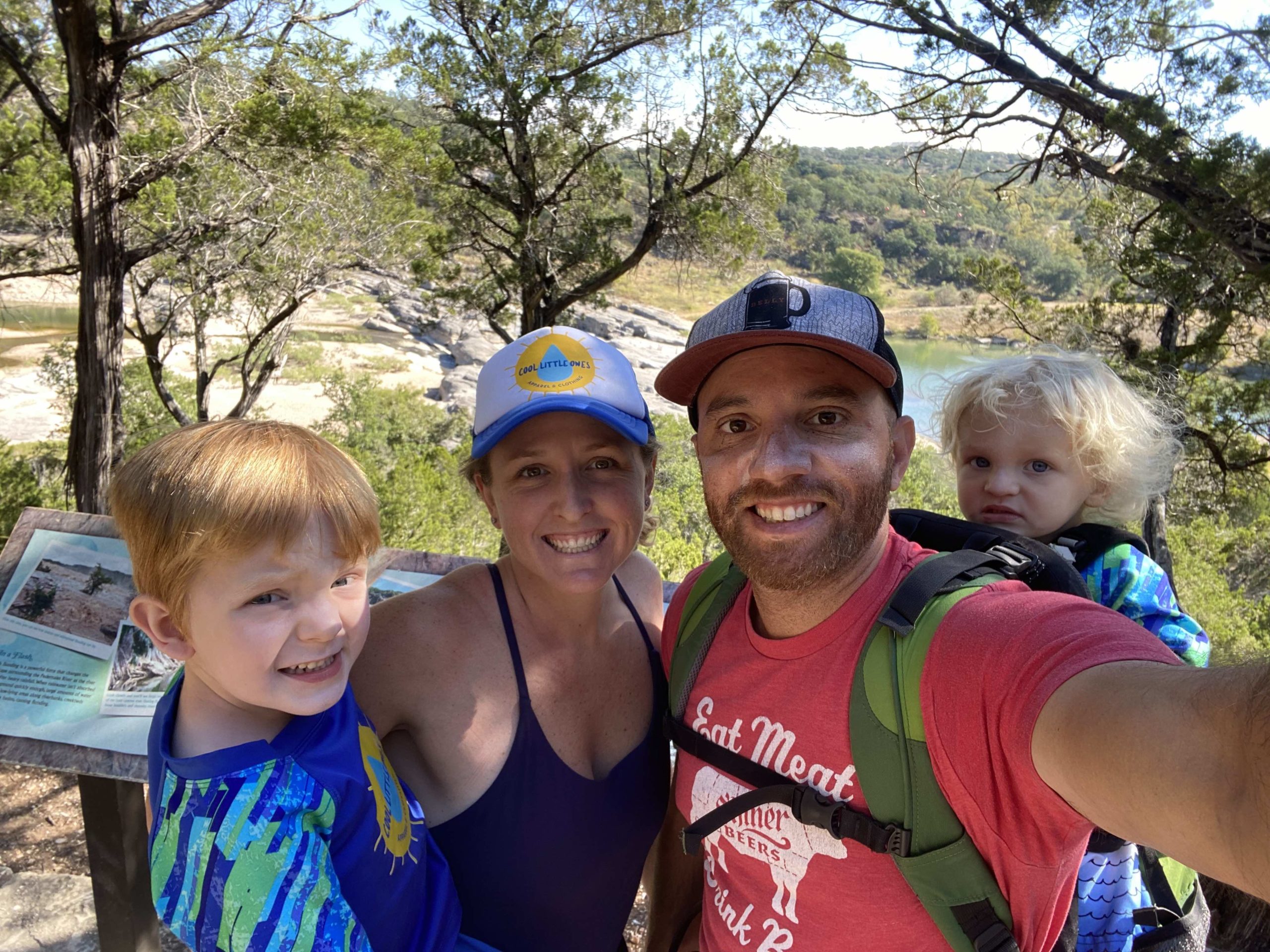 This led me to finding a local seamstress and eventually a manufacturer here in the United States. I first started selling headbands, 2 different onesies and 2 different shirts. They sold so well that I designed a whole line that just launched in April of 2022. I am extremely passionate about Cool Little Ones because not only do I get to involve my kids, our clothes actually solve a problem I had. My objective at Cool Little Ones is to make practical and cute moisture wicking and uv protection clothes that kids can wear on any outdoor adventure.
Any time-saving tips/resources as a mom?
My best time-saving tip is to just set small goals every day. It has been extremely difficult working at home with two toddlers but I just give myself one goal everyday – that way I know I am moving forwards but not overwhelming myself. I also think it is important to take time for yourself and do what makes you feel your best, whatever that may look like for you. Oh, and one load of laundry every day so it doesn't pile up!
Any challenges you're facing with Cool Little Ones?
One of my biggest challenges with Cool Little Ones is wanting to grow! I have self-funded this company which means every single penny to me equals a million dollars, therefore my marketing budget is extremely small compared to other bigger brands. Also, the cost of materials (fabric, manufacturing, freight, etc.) has gone up drastically even in the past 2 years so I am figuring out everyday how we can make it through! I believe in Cool Little Ones with my whole heart and I am thankful to everyone that has purchased clothes and shared our products with the community.
As a long-time Austin resident, any favorite spots?
All time favorite restaurant in Austin, since 1990 is Chuys. I can never get enough creamy jalapeno. My family and I used to go to the Barton Springs location every Sunday afternoon then spend the rest of the evening at Zilker Park playing on the old wooden playscape and riding the Zephyr Train.
My favorite coffee shop in Austin is Cosmic Coffee because not only does it have delicious coffee, it has a nice area to sit outside and it is next door to one of my husband's favorite local BBQ trailers, Leroy and Lewis.
Since having kids, I don't go grab drinks often, but we do enjoy all of the breweries and distilleries in Dripping Springs that have kids play areas, and there are a lot! For a date night, you can't beat a house margarita at Jack Allen's!
If you'd like to know more about Cool Little Ones, visit the website and give them a follow on Instagram!
Glenna has so kindly offered South Austin Moms a discount code through the end of June 2022. 
Use SouthAustinMoms10 for 10% off anything on the website!