As busy moms, we've realized well-made clothes are crucial. For one, they simply last longer which saves us time shopping for constant replacements (and can be used as hand-me-downs for future kids—bonus!). But perhaps more importantly, they encourage active play and help build childhood memories. That's why we're happy to be partnering with Joules, a beloved U.K. brand inspired by the British countryside. Their styles are all bright, cheerful and practical. Each piece, including their popular rain jackets and boots—help children have fun outdoors no matter the weather. We especially love their Mommy & Me styles to boost all of our spirits this spring! Now and always, Joules wants customers to turn to their quality clothing for their quality time. We spoke to Dave Wood, Managing Director of JoulesUSA, to learn a little more about this unique brand:
Would you please explain what separates Joules from other brands?
Joules is a contemporary family lifestyle brand established in the British countryside nearly three decades ago by Tom Joule. Our authentic British heritage, quality product and playful use of colour/print are what sets us apart from other brands in the US. We have a strong focus on our Right as Rain collection, an assortment of family rainwear styles from printed welly rain boots to our classic waterproof jackets. With over 150 days of rain each year in Great Britain, you could say we are experts in the field and know how to make a splash! Our styles are designed with 'surprise and delight' in mind. Hidden details and our unique personality are something we like to weave into everything we do.
We know that supporting local, mom & pop shops is a priority for you. Can you share a bit about that?
Joules' values center around our family, customers and community. We entered the US market over six years ago, building up our reputation through small mom & pop stores! In strange and difficult times like these, we know just how important it is to continue supporting local businesses to weather the storm together.
We just launched a new social media campaign called Small Business Saturday where we highlight the stockists that need support or are doing things that are supporting their own local communities at this time. Our goal is to show our followers that we are a united front and encourage support of the small businesses that make up our economy.
This has always been part of our DNA and continues to be cherished and valued as we move forward in these uncertain times. Our customers and the rest of our community are also in need of a little bit of sunshine – so we're hosting our 'Seeking Sunshine Photo Competition' on Instagram. By sharing how you create your own sunshine –even on rainy days– using #JoulesRightAsRain, not only will you be entered to win a $1000 shopping spree and possibly featured on our homepage, but you'll be spreading joy and positivity to our community, which means the world to us.
Why is Mommy and me dressing always such a fun idea?
Why isn't it! Dressing like your children and vice versa appeals to the inner kid in all of us. Whether it is puddle splashing in our matching rain boot wellies or weekend hikes in our waterproof jackets, it is a fun way to spend quality family time doing what we love with the people we love. We pride ourselves on keeping core values like these at the forefront of our collections. The bond between a parent and child is so magical and our Mommy and Me collections are fun ways to express it! We love to wonder, are we a little them or are they a little us? Whether it's one piece or a whole outfit, Mommy and Me dressing is always twice the style and double the fun.
Can you share more about your Daily Doses of Sunshine Instagram series?
As a rainwear brand, we pride ourselves in being forever weather optimists. It means not letting the storm stop you from staying positive and being inspired by nature. Even in the worst of storms, it's so important to create your own sunshine. We made it our mission to help spread positivity to our community during these difficult times. Our Daily Doses of Sunshine Instagram story series hopefully does just that! Whether it is a new recipe to make at home or a happy song that makes us smile, we like to share these little rays of sunshine to the world and hopefully bring a smile to our followers' faces. We have also been sharing tons of fun family activities to do with your kids, like puddle jumping competitions right in your own backyard! We definitely encourage you to check it out!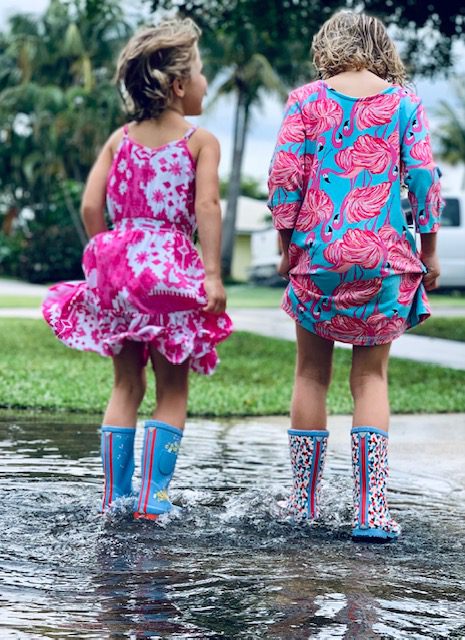 What moms across The Local Moms Network are saying about Joules:
"We love that in addition to adorable well-made items, Joules is a company built on the foundation of respecting the environment and giving back. They have customers for life in us!"  – Briana Beaty, Palm Beach Moms
"We love our outdoor time! Dancing in the Spring Rain is a family pastime and Joules is the perfect thing to wear."- Megan Sullivan, Greenwich Moms
My oldest daughter and I are loving our Joules "Mommy & Me" rainboots. She is my little shadow and loves to match me when we can (and I soak it up for as long as she'll let me)! – Melissa DeSanti, Mendham Moms
"Joules' kids' spring prints are so fun and bright. Adorable floral dresses, stripes galore and even some mermaids…you can't help but smile when you see your littles ones wearing their clothes."  – Chelsea Thornton, South Orange County Moms
This story is sponsored by Joules and first appeared on The Local Moms Network.