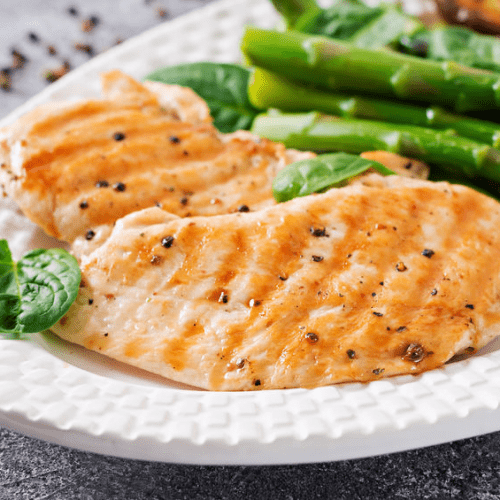 This recipe from MaxLiving is perfect for summer dining on the deck, plus it is packed full of nutrients and is sure to satisfy even kids with picky palates.
INGREDIENTS
2

 

boneless, skinless chicken breast halves

 

3/4 lb, approx. 4-6 oz each

1

 

lb

 

asparagus spears

2

 

green onions

 

both white and green parts, chopped

1/8

 

cup

 

extra virgin olive oil

t

 

tbsp

 

white wine vinegar

1

 

tsp

 

fresh ginger

 

finely chopped

1

 

tsp

 

fresh basil

 

finely chopped (or 1-2 tsp dried basil)

3

 

cups

 

fresh spinach or fresh greens of choice
INSTRUCTIONS
Rinse the chicken breasts in cool, running water; pat dry using paper towel. Cut away any visible or excess fat.

In a medium-size glass bowl, combine the green onion, olive oil, vinegar, fresh ginger, and fresh (or dried) basil; whisk together to create the marinade.

Arrange the chicken breasts in a shallow baking dish, and pour the marinade over the chicken, turning to coat. Cover with plastic wrap, and place the marinating chicken in the refrigerator for 30 minutes.

Preheat oven to 375°F. Line a rimmed baking sheet with aluminum foil. Place the chicken breasts on the foil-lined baking sheet, and arrange the rinsed/dried asparagus spears around the chicken breasts. Place the baking sheet in the preheated oven.

Bake the chicken/asparagus for 35-45 minutes or until the asparagus is fork tender and the chicken breasts are cooked through and juices run clear.

To serve, place a baked chicken breast on each plate, and serve over a bed of fresh spinach or preferred greens and serve alongside 3-4 spears of asparagus.

Store the remaining in the sealable containers to be used for lunch the following day.
This is a sponsored post from River City Wellness.The original recipe was posted HERE on the MaxLiving website.