1. Create a System for Incoming Mail
Stay on top of incoming papers by sorting them into broad categories (think: "Needs Action" and "File") and immediately tossing or recycling junk mail and unneeded items. Avoid making piles (things just get lost at the bottom!) and use vertical sorters like this one or this one to keep papers categorized and visible. Set aside a few minutes each week to process your categories.
2. Organize Your Pantry
A disorganized pantry leads to expired food, wasted money, and a lot of frustration! Getting your pantry in order will make meal prep and snack time so much easier. We shared some of our best pantry organizing tips in this blog post.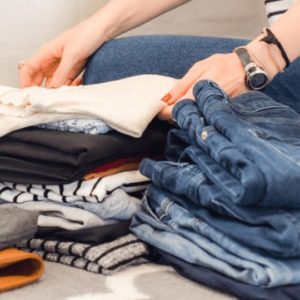 3. Pare Down Your Wardrobe
A closet stuffed with clothes that no longer fit or serve you creates stress every single day. Start by letting go of clothes that are damaged or that you know you'll never wear again. Then, go through the remaining items and only keep the ones that you love and/or wear often.
4. Keep Kids' Spaces Tidy(ish)
If you're a parent, you know that kids' play areas can quickly get out of control. This year, build some habits and set up simple systems that will help you (and your children) keep toys and play spaces organized. This blog post has some great tips.
This post was contributed by Sara Fritsch, owner and founder of Moxie Space. Check out the Moxie Space listing at the Your Home Resource page!